Modular conveyor is a conveyor which belt comprises of individual plastic modules assembled into one using a join rod. These assembled plastic modules act as a belt for the conveyor and therefore if a damage occured around belt area, repair can be done only on the affected area instead of replacing the whole belt.
Our Specification Standards

Width: minimum 150mm then widen as needed
Length: minimum 1000mm then lenghten as needed
Advantages of Modular Conveyor
Modular conveyor is similar compared to traditional belt conveyor, the only difference is on the belt. Belt on a modular conveyor comprise of plastic modules assembled into one belt. This configuration makes conveyor assembly easier and faster. Modular conveyor also capable of supporting heavier load than belt conveyor.
If damage occurs on belt area, the maintenance or replacement can be done only to the modules that are affected which extremely saves cost and minimalise down-time or time it takes to repair.
Plastic modules being used on modular conveyor are really easy to clean and does not retain any liquid or bacteria-habitable substances which allows modular conveyor to be used within industries that requires hygiene for its machineries like food and beverage industry.
Recommended Applications

Food and beverage industry
Pharmaceutical industry
Packaging line
Product / material sorting
Assembly line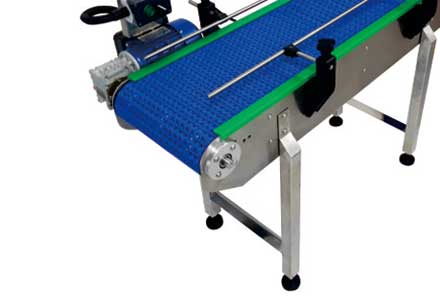 Modular Belt Conveyor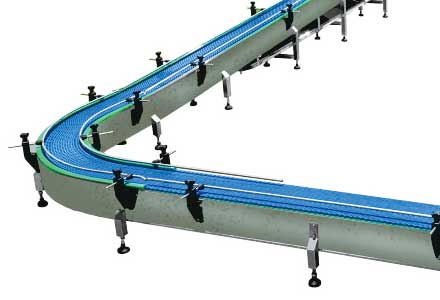 Curve Modular Belt Conveyor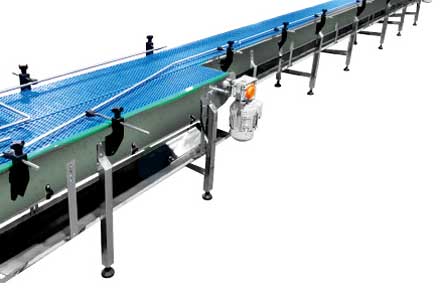 Adjoin Modular Belt Conveyor
GET YOUR OWN MODULAR CONVEYOR NOW!